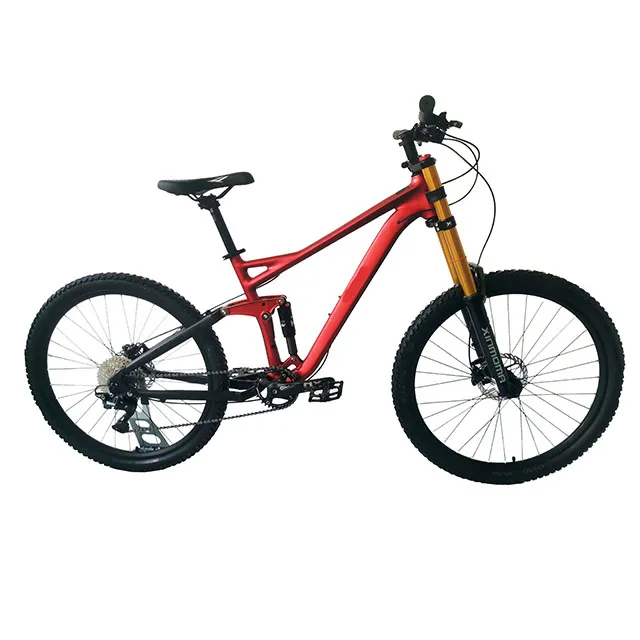 Introducing the ultimate companion for all adrenaline seekers and outdoor enthusiasts - the Mountain Bike with Dual Shock Absorption. This cutting-edge two-wheeler is meticulously designed to tackle the toughest terrains and provide an unrivaled riding experience. Whether you're an experienced rider or a beginner, this mountain bike is built to exceed your expectations and take your adventures to new heights.
At the heart of this mountain bike's stellar performance lies its groundbreaking dual shock absorption system. Engineered to perfection, this innovative system ensures an exceptionally smooth and comfortable ride, even on the most uneven and challenging trails. The dual shocks effectively absorb and distribute impact forces, safeguarding your body from jolts and reducing fatigue during long rides.
Equipped with top-of-the-line suspension forks, the front shock absorption system delivers remarkable control and stability. It effectively absorbs the impact from rough terrains, allowing you to effortlessly conquer obstacles and providing optimal traction for absolute control. With this advanced front shock system, you can confidently navigate through rock gardens, steep descents, and high-speed corners with unmatched precision and confidence.
The rear shock absorption system completes this mountain bike's dynamic duo, delivering uncompromising performance and supreme comfort. Designed to eliminate vibrations and harsh impacts, the rear suspension absorbs bumps, roots, and rocks with exceptional efficiency, ensuring a smooth and stable ride over varying terrains. This ensures that you stay in complete control of your bike, regardless of the trail's challenges or the speed at which you ride.
Crafted from premium quality materials, this mountain bike is engineered to withstand the rigors of off-road adventures. The frame is constructed from sturdy and lightweight materials, making it both durable and agile. This combination of durability and lightweight design allows for effortless maneuverability while maintaining the bike's robustness against rough trails and demanding conditions.
The mountain bike's impeccable design extends beyond its shock absorption system. Ergonomically designed handlebars provide superior comfort and perfect control, allowing you to tackle technical sections and maintain a correct riding posture effortlessly. The high-traction tires ensure exceptional grip on all surfaces, guaranteeing your safety and stability throughout your journey.
This mountain bike is available in various sizes and styles, catering to riders of different heights and preferences. Its sleek appearance and eye-catching color options not only turn heads but also make it a stylish and fashionable choice for riders seeking the perfect blend of performance and aesthetics.
Whether you're an avid off-road adventurer or a weekend warrior looking to explore the great outdoors, this mountain bike with dual shock absorption is the ultimate partner for all your biking expeditions. Experience the thrill, conquer any trail, and push your limits with this exceptional piece of engineering. Don't settle for anything less than the best - choose the mountain bike with dual shock absorption and elevate your riding experience to new heights.